Pianist, composer, arranger, and bandleader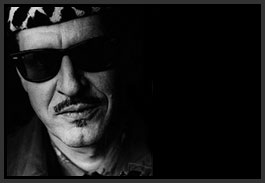 Born 22 April 1948 in Copenhagen. Studied piano with Duke Jordan, Kjell Olson, and Herman D. Koppel, and jazz theory with George Russell. Study trips to The Gambia, West Africa, in 1983 and 1985. Active on the jazz scene since 1969, primarily in Denmark, but also in Greenland, Sweden, Norway, Finland, Germany, France, Italy, Spain, the USA, and Russia. Awarded DJBFA's composer prize in 1987, the JASA prize in 1988, Statens Kunstfonds 3-year work grant in 1993 and lifelong grant from 1998.
 Kaspersen has played with such groups as "Blue Sun" 1969-72, "Alif" 1976-78, and "Nada" 1978-80. He has worked with Lone Kellermann and with Dan Turell during the 1970s. He has led his own groups since 1979, often under the name of "Space and Rhythm Jazz": from trio, quartet, quintet, and septet to the "Special Occasion Band" (12 musicians) and "Space and Rhythm Big Band" (16 musicians). From mid-1980s, he has worked in duos with Bob Rockwell, Simon Spang-Hanssen, Fredrik Lundin, Pierre Dorge, Horace Parlan, and as solo pianist. Formed in 2004 a sextet w. Christina von Bulow, Jakob Dinesen and Peter Dahlgren, that plays Kaspersen´s arrangement of the music of Abdullah Ibrahim aka Dollar Brand.
Kaspersen's name was established in the 1980s as one of the most distinctive and original profiles in jazz – as pianist, composer, and especially as bandleader. Time and again he has demonstrated his skill in bringing out the very best from his fellow musicians. The music on the repertoire is mainly written and arranged by Kaspersen – music that has its roots in the jazz and blues traditions created by Duke Ellington, Thelonius Monk, Charles Mingus, and Horace Silver. Arrangements by Monk and Ellington/Strayhorn's music are also on the repertoire.Recorded as the first danish jazzmusician a whole album with Thelonious Monk compositions ("Memories of Monk" 1986).Furthermore Kaspersen has studied and recorded the music of Erik Satie. He has composed works for his own ensembles since the beginning of the 1970s – around 400 pieces arranged for large and small groups. He has written music for the New Music Orchestra, New Jungle Orchestra, The Danish Radio Jazz Orchestra, Radiojazz Gruppen, Klyvers Big Band, the Orchestra of The Royal Theatre, Ny Dansk Saxofon Kvartet, Strange Party Orchestra,Toneart Ensemble, T.S. Hawk's Somesax,Copenhagen Police Orchestra and music for more than 26 theatrical performances and films.
Numerous recordings with his own groups, as solo pianist, and in duos with Simon Spang-Hanssen, Pierre Dorge, Horace Parlan, and Bob Rockwell. See discography. Rockwell/Kaspersen's "Ballads and Cocktails" was chosen Danish jazz recording of the year in 1992 and "Heavy Smoke" was awarded a Danish Grammy for best jazz recording of the year in 1994. Kaspersen's music has also been played/recorded by the Lee Konitz/Jens Sondergaard Quintet, Bob Rockwell Trio and Quartet, Toralf Moelgårds Quintet, The Four, Strange Party Orchestra, Aske Jacoby Band, Orbit Big Band and the Danish Radio Jazz Orchestra.
Some of the musicians who have worked with Kaspersen and his music are :
Anders Bergcrantz, Jerry Bergonzi, Bob Rockwell, Finn Ziegler, Simon Spang-Hanssen,John Tchicai, Fredrik Lundin, Tomas Frank, Christina Dahl, Elith "Nulle" Nykjaer, Jakob Dinesen, Kasper Tranberg, Christina von Bulow, Bent Jaedig, Jesper Thilo, Jesper Zeuthen, Erling Kroner, Peter Dahlgren, Lis Wessberg, Bjarne Roupe, Aske Jacoby, Peter Danstrup, Marc Davis, Anthony Cox, Lennart Ginman, Jesper Lundgaard, Nils Bo Davidsen, Nicolaj Much-Hansen Jens Jefsen, Klavs Hovman,Ole Skipper Moesgaard,Hugo Rasmussen,Ole Romer, Frands Rifbjerg, Kresten Osgood,Kaesten Bagge, Ole Streenberg, Jonas Johansen, Ole Theill, John Betsch, Martin Andersen,Klavs Nordsoe, Jacob Andersen, Flemming Quist Moller, T.S. Hawk ,Kristian Joergensen and Pierre Dorge. 
Jan Kaspersen – Diskografi:
1980: "Slow Life" (solo)  Karma Music KMLP5
1983: "Bizarre Ballet" (JK5)  Storyville SLP 1023
1985: "Puzzle in Four" (JK5) Olufsen Records DOC 5007
1986: "Erik Satie: 3 Gymnopediés" (solo) O.R. DOC/DOCD/DOMC 5017 – Classico Classcd 109
1986: "Memories of Monk" (JK3) O.R. DOC 5032
1986:  "Love Eyes" (solo) O.R. DOC 5021
1986: "Jan Kaspersen i Teatret" (Stage music 83-86) O.R. DOC 5040
1987:  "Ten by Two" (duo with Spang-Hanssen) O.R. DOC/DOCD 5053
1987:  "Space and Rhythm Jazz" (JK7) O.R. DOC/DOCD 5060
1987: "Live in Denmark" (duo with P. Dørge) DOC 5077
1988: "Special Occasion" (JK3) O.R. DOC 5095
1990: "Special Occasion" (JK3- 5 new titles from 90) O.R. DOCD 5111
1991: "Live in Sofie's Cellar vol. 1!" (JK5) O.R. DOCD 5136
1992: "Ballads and Cocktails" (duo with Rockwell) O.R. DOCD 5156
1992: "Heavy Smoke" (JK5) O.R. DOCD 5188
1994: "Joinin' Forces" (duo with Parlan) O.R. DOCD 5184
1994: "S.O.B: Live in Copenhagen Jazzhouse" O.R. DOCD 5303/4
1995: "Erik Satie: 3 Sarabandes" (solo) Classico ClassCD 126
1996: "Portrait in Space and Rhythm" (Compilation 1986-96) O.R. DOCD 5355
1995: "Jan Kaspersen and The Danish Radio Jazz Orchestra:
            Live in Copenhagen Jazzhouse" O.R. DOCD 5356
1998: "Out of Sight" (JK5 with Ziegler) O.R. DOCD 5391
1998: "Den Blå Munk" film soundtrack (solo piano) Music Mecca CD 2072-2
1999: "Katuaq Concert" (solo piano) O.R. DOCD 5384
1999: "More Ballads and Cocktails .. and The Blues" (duo with Rockwell) O.R. DOCD 5393 2000: "Jazztalk" (JK3) O.R. DOCD 5440
2001: "Memo to the Moon" (JK & Special Occasion Band) O.R. DOCD 5521
2002: "Puzzle in Four" cd-edition w. bonus tracks (JK5) O.R. DOCD 5532
2005: "Mind Pictures" (solopiano) O.R. DOCD 5507
2006: "Blues for a hip King" (JK6) O.R. DOCD 5617
2009: "Public Piano" (solopiano) Bang Forlag BFCD 101
2009:  "Happy as a flower" (JK6) O.R. DOCD 5755
2011:  "Jiving in Kalamazoo" (Brøgger/Kaspersen 5) Bang Forlag BFCD 103
2011:  "Black Rabbit Suite ( JK6) O.R. DOCD 5770
2014:  "Jungle Money" (JK3) O.R. DOCD 5805
2018:  "Jan Kaspersen Octet: Electric Extension" (JK8) O.R. DOCD5978
2020:  "On the Spot – Jungle Money 2" (JK3) O.R. DOCD 5988
Andre indspilninger bl.a. :
1970: "Blue Sun: Peace be unto you" – Spectator Records
1971: "Blue Sun" – EMI
2003: "Blue Sun – Live 1970" – Karma Music
2006: "Blue Sun: Festival  – Karma Music
1979: "Nada"  – Karma Music
1976: "Dan Turéll og Sølvstjernerne" – STUK 1976 / Olufsen Records 1993
2004: "Dan Turéll og Sølvstjernerne vender tilbage"  – Karma Music
1996: "Chili Turéll : Teksten er af Dan Turéll"  – Olufsen Records
2006: "Suzanne Brøgger: Blå Biografi"  – Exlibris
2016: "Høxbroe /Kaspersen" – Fiol Sessions fiol201